Selling cryptocurrencies with our innovative ATMs is easy, fast and secure. We have designed our ATMs to be as intuitive as possible, but here's a quick guide to get started.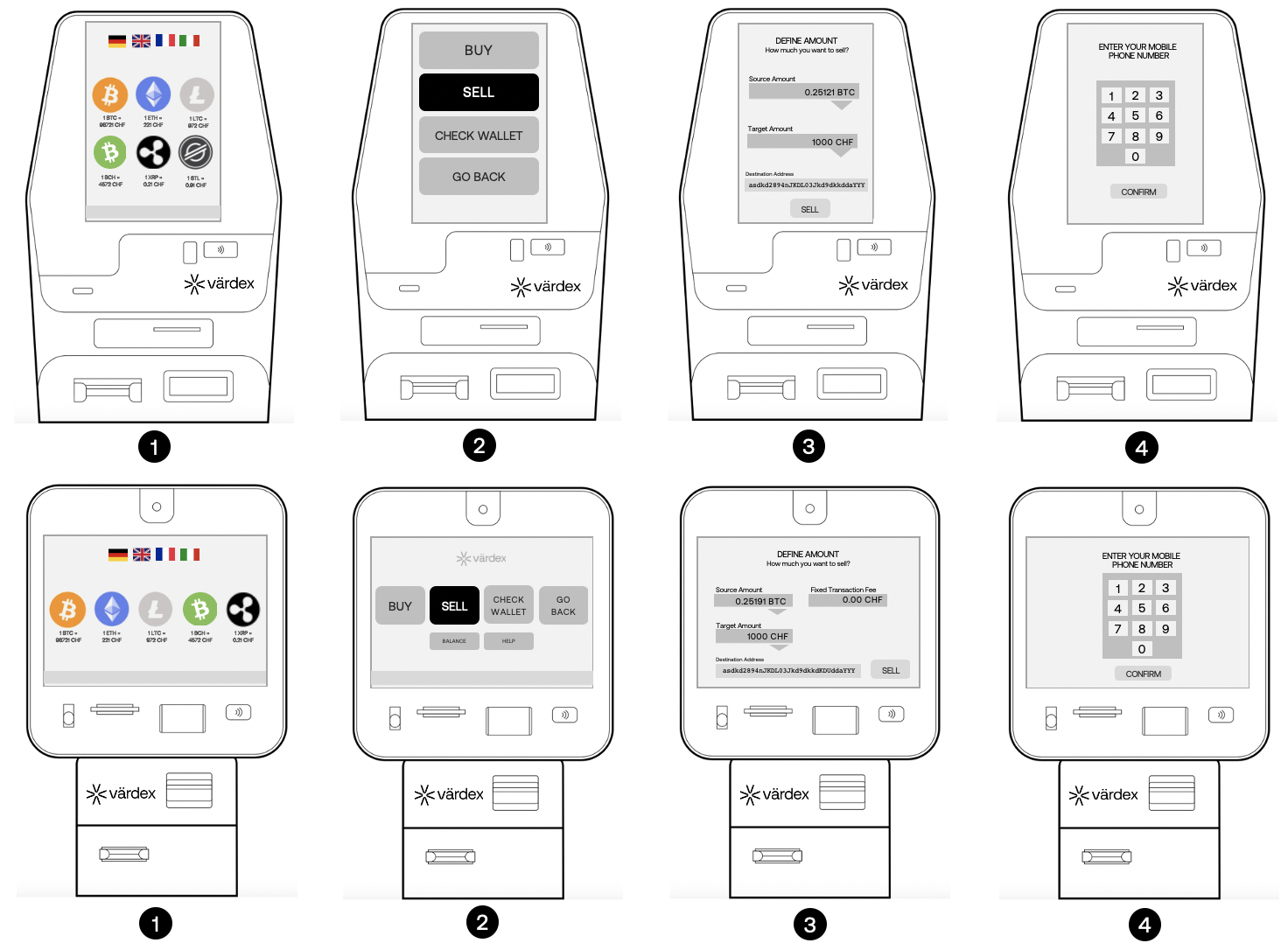 Select "Bitcoin" to start the sell process.
Select "SELL" on the terminal and choose the CHF amount that you wish to withdraw from the ATM. Sell transactions are currently only available for Bitcoins and are distributed in banknotes of CHF 100.
The terminal will print out a "Redeem Ticket" with Värdex's public wallet address, including necessary instructions. Thereafter, send the equivalent Bitcoin amount from your private crypto wallet to Värdex's public address and make sure to complete your transfer within the displayed time limit.
Our system will wait for the blockchain confirmation of your BTC transfer, this usually takes 15 - 60 minutes depending on current network speed. Once our system receives the block confirmation, the ATM will prepare your requested cash withdrawal.
Sending exact BTC amount
For an successful sell transaction it is important that you are sending the exact BTC amount written on the receipt. In addition you need to send your BTC within 10 minutes after starting the sell process at the ATM.
If you sending the ATM more or less BTC or later then 10 minutes the sell transaction will fail.
Do not use online platforms
Do not send Bitcoins from an online exchange wallet (Binance, Kraken, Coinbase etc.) for a sell transaction. These platforms often take longer to transfer funds, which can exceed the displayed time limit on the terminal and therefore cancel the transaction. Please only use private crypto wallets!
Find ATM Location
Find your nearest ATM location to buy and sell cryptocurrencies. Easy, fast and secure.


Customer Support
Can't find what you're looking for or you have a question about our products and services?
Hotline: (+41) 041 508 78 00
Email: support@vaerdex.ch