In order to fully understand Ethereum, what it does and how it can potentially impact our society, it is important to learn what its core properties are and how they differ from standard approaches.
First of all, Ethereum is a decentralized system, which means it is not controlled by any single governing entity. An absolute majority of online services, businesses and enterprises are built on a centralized system of governance. This approach has been used for hundreds of years, and while history proved time and time again that it's flawed, its implementation is still necessary when the parties don't trust each other.
A centralized approach means single-entity control, but it also means a single point of failure, which makes apps and online-servers utilizing this system extremely vulnerable to hacker attacks and even power outages. Moreover, most social networks and other online servers require users to provide at least some degree of personal information, which is then stored on their servers. From there, it can be easily stolen by the company itself, its rogue workers or hackers.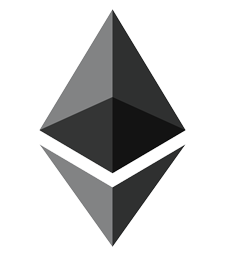 Ethereum, being a decentralized system, is fully autonomous and is not controlled by anyone at all. It has no central point of failure, as it is being run from thousands of volunteers' computers around the globe, which means it can never go offline. Moreover, users' personal information stays on their own computers, while content, such as apps, videos, etc., stays in full control of its creators without having to obey by the rules imposed by hosting services such as App Store and YouTube.
Secondly, it is important to understand that even though constantly compared to each other, Ethereum and Bitcoin are two completely different projects with entirely different goals. Bitcoin is the first ever cryptocurrency and a money-transfer system, built on and supported by a distributed public ledger technology called the Blockchain.


Ethereum took the technology behind Bitcoin and substantially expanded its capabilities. It is a whole network, with its own Internet browser, coding language and payment system. Most importantly, it enables users to create decentralized applications on Ethereum's Blockchain.
Those applications can either be entirely new ideas or decentralized reworks of already existing concepts. This essentially cuts out the middleman and all the expenses associated with the involvement of a third party. For example, the only profit that comes from users 'liking' and 'sharing' their favorite musician's posts on Facebook is generated from an advertisement placed on their page and it goes directly to Facebook. In an Ethereum version of such social network, both the artists and the audience would receive awards for positive communication and support. Similarly, In a decentralized version of Kickstarter, you won't be getting just some artifact for your contribution to the company, you will be receiving a part of the company's future profits. Finally, Ethereum-based applications will remove all sorts of payments to third parties for fascinating any kind of services.


In short, Ethereum is a public, open-source, Blockchain-based distributed software platform that allows developers to build and deploy decentralized applications.
As it was mentioned before, Ethereum is a decentralized system, which means it utilizes a peer-to-peer approach. Every single interaction happens between and is supported only by the users taking part in it, with no controlling authority being involved.
The entire Ethereum system is supported by a global system of so-called 'nodes.' Nodes are volunteers who download the entire Ethereum's Blockchain to their desktops and fully enforce all the consensus rules of the system, keeping the network honest and receiving rewards in return.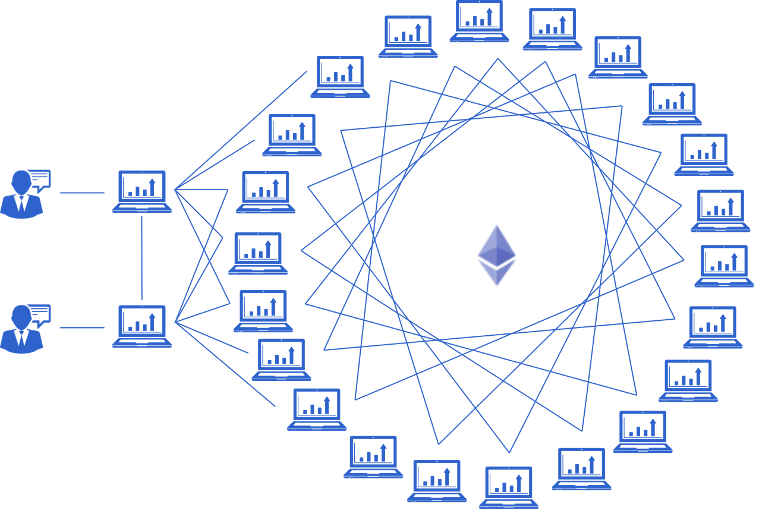 Those consensus rules, as well as numerous other aspects of the network, are dictated by 'smart contracts.' Those are designed to automatically perform transactions and other specific actions within the network with parties that you don't necessarily trust. The terms for both parties to fulfill are pre-programmed into the contract. The completion of these terms then triggers a transaction or any other specific action. Many people believe that smart contracts are the future and will eventually replace all other contractual agreements, as the implementation of smart contracts provides security that is superior to traditional contract law, reduce transaction costs associated with contracting and establish trust between two parties.
Moreover, the system also provides its users with the Ethereum Virtual Machine (EVM), which essentially serves as a runtime environment for smart contracts based on Ethereum. It provides users with security to execute an untrusted code while ensuring that the programs don't interfere with each other. EVM is completely isolated from the main Ethereum network, which makes it a perfect sandbox-tool for testing and improving smart contracts.
The platform also provides a cryptocurrency token called 'Ether.'


Is Ethereum like Bitcoin?
Ethereum and Bitcoin might be somehow similar when it comes to the cryptocurrency aspect, but the reality is that they are two completely different projects with completely different goals. While Bitcoin has established itself as a relatively stable and the most successful cryptocurrency to date, Ethereum is a multipurpose platform with its digital currency Ether being just a component of its smart contract applications.
Even when comparing the cryptocurrency aspect, the two projects appear to be vastly different. For instance, Bitcoin has a hard cap of 21 mln Bitcoins that can ever be created, while a potential supply of Ether can be practically endless. Moreover, Bitcoin's average block mining time is 10 minutes, whereas Ethereum's aims to be no more than 12 seconds, which means quicker confirmations.
Another major difference is that these days successful Bitcoin mining requires tremendous amounts of computing power and electricity and is only possible if using industrial-scale mining farms. On the other hand, Ethereum's proof-of-work algorithm encourages decentralized mining by individuals.
Perhaps the most important difference between the two projects is that Ethereum's internal code is Turing complete, which means that literally everything can be calculated as long as there is enough computing power and time to do so. Bitcoin doesn't have this capability. While a Touring complete code provides Ethereum users with practically limitless possibilities, its complexity also means potential security complications.


Is it a cryptocurrency?
By definition, Ethereum is a software platform that aims to act as a decentralized Internet as well as a decentralized app store. A system like this needs a currency to pay for the computational resources required to run an application or a program. This is where 'Ether' comes into play.
Ether is a digital bearer asset and it doesn't require a third party to process the payment. However, it doesn't only operate as a digital currency, it also acts as 'fuel' for the decentralized apps within the network. If a user wants to change something in one of the apps within Ethereum, they need to pay a transaction fee so that the network can process the change.
The transaction fees are automatically calculated based on how much 'gas' an action requires. The amount of required fuel is calculated based on how much computing power is necessary and how long it will take to run.
Get Started
Find your nearest Värdex access points to buy and sell cryptocurrencies. Easy, fast and secure.